Class of 2022: Using virtual resources to prepare for college applications
In partnership with the DOE, The Next Stop College (NSC) project launched the College Match Tool yesterday. It will enable all NYC high school students the ability to create a strong match college list using their GPA. After selecting their GPA range students will receive access to lists of colleges they are likely to be accepted at, that match their academic eligibility and the schools that would be their reach schools.

 

Students can also explore all of the 2,960 colleges in the tool and see their graduation rates broken down by race and ethnicity as well as anticipated cost by family income levels. 

 

https://nextstopcollegenyc.org/
Our friends at Collegewise have launched Runway, a series of college planning programs and resources, carefully structured to give students and parents the tips, tools, and timelines they need to reach their college goals in the year (the experience, really) that is 2020.
When you sign up for Runway, you'll have access to content and videos designed for seniors and their families that cover topics including:
Finding good value colleges
Overview of types of colleges
Personal statement brainstorming and writing
Effective Common App completion
Financial aid applications
For 9th through 11th graders, you'll find an on-demand video library, monthly newsletter, and a variety of guides covering everything from STEM programs to The Common App.
This program available to anyone and everyone, and there's no cost for access.
Sign up here: https://collegewiserunway.thinkific.com/
************************************************************************
Follow these organizations Instagram accounts for useful updates in the admissions process! (individual colleges also have their own insta' accounts as well!) 
 
@collegeboard
@collegeessayguy
@cunywc
@cunyasap
@suny
@commonapp
For students applying in Fall 2020 and beyond, the college search process will look quite different. With in-person college fairs, campus tours, and information sessions suspended for the foreseeable future, online research will be families' primary tool as they seek to design a balanced list of colleges with excellent individual fit.

And for students seeking to explain why they have chosen a particular school on their college applications, effective online research will be more important than ever.

CATES CEO Chris Ajemian and the founder of Relativity College Consulting, Michael Muska, discuss the right ways to go about online college research, as well as what to avoid.

The pdf below will discuss:

- How to decide if a college is a good fit—without visiting
- Where to look and how to read between the lines on colleges' websites
- Where to find key admissions facts and figures, including on average test scores and GPAs, admissions rates, and financial aid
- How to get the real picture of academic programs and life on campus
- Who you should contact and the questions you should ask
- How to use online research to make your application stand out

If you would like to watch this presentation as a webinar, click here: https://www.youtube.com/watch?time_continue=1&v=2NtC8zLR4a4&feature=emb_logo
 **********************************************************************

COLLEGE AND CAREER READINESS VIRTUAL WORKSHOPS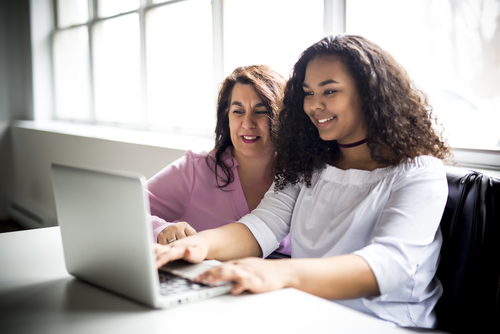 Join our college and career readiness workshops to learn about scholarships, financial aid, personal branding, and more. If you are a teen who is trying to plan for college or your next step, now is the time to attend our programs and begin to prepare for the next phase of your educational or career journey. These programs are also of interest to parents of high school students. Visit our calendar to see our upcoming virtual events.
https://www.queenslibrary.org/calendar?searchField=college&category=calendar&fromlink=after_cal&searchFilter=?utm_source=oracle&utm_medium=email&utm_campaign=collegereadiness2020 
**************************************************************************** 
See below for guidance on how to prepare for the college application process. 
Junior College Prep Checklist:
https://secure-media.collegeboard.org/CollegePlanning/media/pdf/BigFuture-College-Planning-Calendar-Juniors.pdf
Junior Parent/Guardian College Prep Checklist:
https://secure-media.collegeboard.org/CollegePlanning/media/pdf/parent-action-plan-11th-grade.pdf
***********************************************************************
SUNY Virtual Events include:
Students can register for the above events at www.suny.edu/studentevents or by calling 1.800.342.3811. Additional campus events can be found on our Visit a Campus page.